[one_third]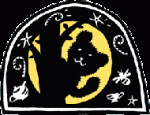 [/one_third]
[two_third_last]Mr. Bear Says Hello is the first of Sally's parent programs, created in Toronto in 1981, and now in its 30th
year!
Storytellers Sally and Erika and lovable hand puppet Mr. Bear share songs, rhymes, fingerplays, stories, books, circle games and lullabies. An 8 week program with children from 10 months to 2 years old and parent or caregiver.
In this class of active toddlers, we use repetition, repetition and more repetition! This method allows the child to observe and absorb
the songs, rhymes, fingerplays and stories. Even a busy toddler will absorb the material and will respond happily to it at home. The adult's participation is key to the success of this class. Each child and their adult make a team and work together to build a storytelling tradition in their own family. It's never too early to start!
Programs offered in central Toronto. Group size is limited. For information on the next session, please contact us at: sallyjaeger@gmail.com.
If you are unable to join us for a program, check out our teaching resources available through the public library or click on our link for on-line purchase information. Mr. Bear Says Hello and Happy Birthday, Mr. Bear! are both available on DVD.
"What the child imitates," says Friederich Froebel, "he begins to understand."[/two_third_last]