Here Comes Mr. Bear!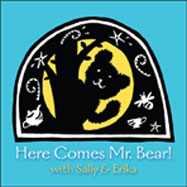 As your child grows, so does the need to play with language. Sally & Erika share rhymes, fingerplays and stories to nurture your child's love of language and build listening skills. Here are more tools for parents, teachers and all who enjoy time with children.
This wonderful collection continues from where Sally and Erika's first recording 'Lullabies and LapRhymes' ends and is part of The Merriweather Records Storytime Series: From Song and Rhyme to Storytime.
"Thank goodness for your CD! Sam is in need of constant entertainment today, so I'm using all of his favourite rhymes from your CD over and over again, and still getting smiles (and protests when I stop)…off to do more!" Anna and Sam