Lullabies & LapRhymes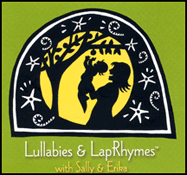 CD released in 2006 by Merriweather Records; 49 minutes – Lyrics included.
A 70 track collection of hello songs, fingerplays and toe rhymes, bounces and tickles, walking and galloping songs and lullabies to play with your baby or toddler. Learn the material by heart and play it throughout your day! Beautifully recorded and released on Merriweather Records. Award winning Toronto musician Ken Whitely joins storytellers Sally Jaeger and Erika Jaeger to delight the listener with simple and listenable renditions of many favorites. A valuable resource for parents, grandparents, caregivers, librarians and ECE.