We regret that we are unable to offer any ongoing classes for Parents and Babies and Toddlers at this time.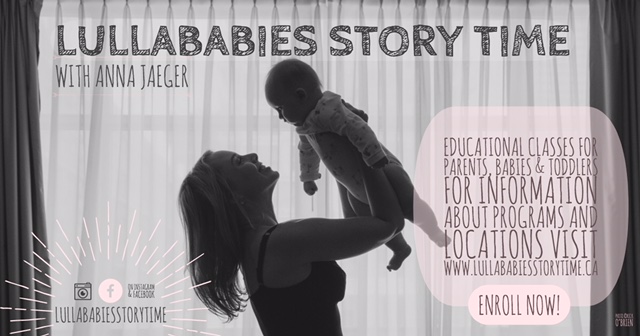 Jump-start your baby's early literacy and sharpen your parenting skills in this educational class, Lullababies Storytime with Anna Jaeger!  Lullababies is a storytime class with a movement focus for parents & babies 0-18mo.  Parents will learn from a broad repertoire of rhymes, songs, tickles and bounces that will be instrumental in building or changing your routine, diffusing fussy situations, soothing your baby to sleep, or just having fun!  Based on local storytelling legend (and Anna's mother), Sally Jaeger's programs, Lullabies & Lap Rhymes and Mr. Bear Says Hello (1981), Lullababies Storytime is a great way to engage and bond with your baby while you both learn new skills!  Classes offered at Mabel's Fables Children's Bookstore, 662 Mt. Pleasant Rd. and Evymama, 1345 St. Clair Ave. W. Visit lullababiesstorytime.ca for details and registration.
Benefits Include:
Early introduction to language for baby
Parents will learn how to distract, diffuse, entertain, calm and sooth baby
Face to face interaction stimulates baby's attention span and listening skills
Stimulate baby's senses with foot pats, finger plays, tracing and tracking of small motor movements
Moving with baby helps them grasp where they are in space and see the world around them
Allows baby to socialize with other babies
Babies learn in their sleep, so even if they are in dreamland, they will still benefit from the material
Strengthens the bond between parent & baby
Increases the body's production of endorphins and up-lifts the mood
Group class environment allows for meeting other parents!
Parents will learn how to be aware of posture when moving with baby to prevent injury
Having fun with baby!!
Equipment Required: