Mr. Bear Has Big News!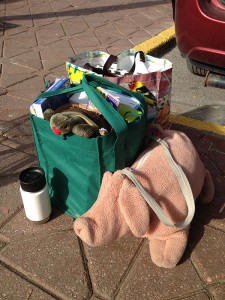 It is with mixed emotions that we announce Mr. Bear will be moving to Vancouver, B.C. in July 2016, with Erika and her family!
As of September, Mr. Bear Says Hello will be taking a break here in Toronto.
We are grateful that Mr. Bear has had a long and flourishing experience sharing stories and songs and rhymes with families in Toronto for over 35 years! We hope Mr. Bear Says Hello will find a new storytelling home out west! Lullabies & LapRhymes will continue in Toronto, helping new parents nurture early literacy with a portable and practical collection of rhymes and songs perfect for babies. Please watch our website for information on the Fall – Spring 2016 -2017 season.
We plan to stay connected with our participants through our facebook page, blog posts, email, and especially in person and on the telephone!
Remember, the resource CDs and DVDs based on our programs, are available in  libraries & bookstores across Canada and the U.S. and online!