Lullabies & LapRhymes wrapped up June 8 at Mabel's Fables.  Mr. Bear Says Hello for toddlers wound up June 19.  What's coming next?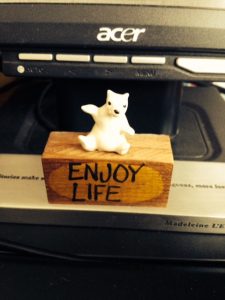 After teaching storytelling programs to parents and caregivers with young children since 1981, I am excited now to turn my focus to mentoring, consulting and teaching workshops to others who wish to learn the craft of telling stories with young listeners and their families! I look forward to occasional concerts with some of my favourite tellers, new and old and, of course, I will continue writing rhymes, songs and stories.
My last year of teaching Lullabies & LapRhymes and Mr. Bear Says Hello presented the perfect opportunity for mentoring my 3 apprentice storytellers.  After a year of working along side me, these 3 storytellers are creating their own new programs to carry on this vital work with babies, toddlers and their families.
Watch my website for details of their new programs continuing at Mabel's Fables Children's Bookstore, 662 Mt. Pleasant Rd.; Silly Goose Kids, 2054 Danforth and Baby On The Hip on 969 Queen E.
Erika and I would both like to thank all the wonderful Moms, Dads, Grandparents, Caregivers and babies and toddlers who joined us to share stories, rhymes, games and songs since 1981.   Some of our earliest parents have returned as grandparents!  Some of our earliest babies have returned as parents!  Imagine that!
Thanks to Erika for her passionate commitment to teaching with me since 2001.  Erika taught for 8 years before her babies were born, and 8 years with each of her 3 babies in tow, before her family moved to BC in July 2016.
And thanks to Anna for being my "guinea pig baby." With Anna I first experienced the joys of playing rhymes, songs and tickles with a new baby.   And it was especially nice to have Anna in the classes again this past year with her second baby.
And thank you to Liam, who started classes before he was born and came along on my lap for his first 3 years.
Without my husband David's support, I couldn't have done 37 years of storytelling as my full time job!   Thank you, David, for listening, ideas, great quotes, editing, photocopying and babysitting! Congratulations on becoming a seasoned ambassador for Mother Goose!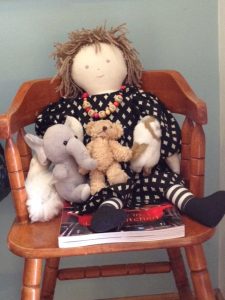 We also thank all of our stores for supporting us and our participants,  offering warm and generous hospitality:  Mabel's Fables Children's Bookstore, Silly Goose Kids and Baby on the Hip!  And to our many other locations, especially With Child and Eastminster United Church, our location for almost 30 years!
Special thanks to TPL's wonderful storytelling librarians for inspiration and guidance in the 1970's.   Joanne, librarian at Boys & Girls House library, asked me in 1980 if I was prepared.  Oh yes, I replied. I've done lots of research. No, said Joanne, I mean are you prepared to do this for a long time?  Because once you start, you won't be able to stop!  Joanne, you were right!